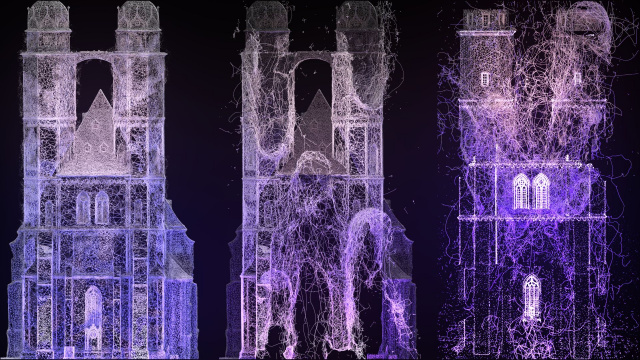 Pulse
Outdoor Light Exhibition / Filip Roca / 2023 / Spain
Relaxing together - that's what visitors can do at this light installation: every evening, Halle's Marktkirche becomes a screen for meditative projections.
Colourful rays of light pervade the dark evening sky. They cover the façade of the Marktkirche like filigree mandala grids. But then the grids tear like threads of a broken spider's web - only to form new grids in other colours immediately afterwards, always accompanied by electronic sound collages that sound sometimes gentle and sometimes bombastic.
Filip Roca's piece focuses on a parallel concept of time, one which we cannot feel unless we stop and think or not even then - until we bring in the imagination. Annihilating the spatial restrictions, it engulfs the subject in a sensory experience propelled by anticipation. A myriad of illuminated particles is covered with electro-acoustic cues and signals - aural reminders and temporal nods to the rhythm of life. Reemerging fragments come to fluctuating terrains and indeterminate structures, trying to find anever-morphing sense of time by governing an ecosystem of its own.