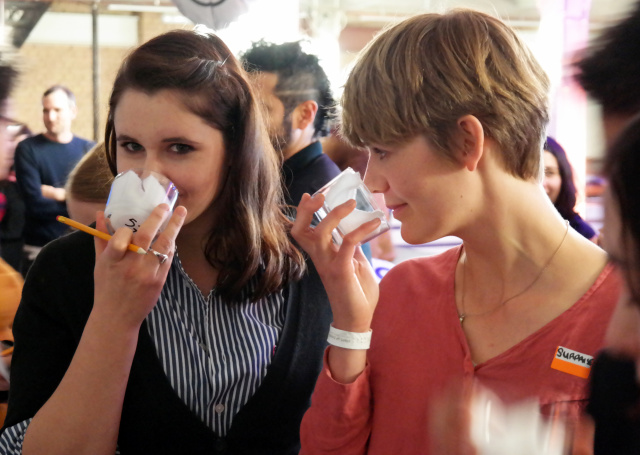 Workshop / Smell Lab Berlin / Klara Ravat, Anna D'Errico
Check out your sense of smell and visit our Smell Dating event! It is all based around your noses. The dating begins with a shared aerobics session. The smells of all the participants are collected with the help of cotton cloths and can be smelled afterwards and the favourite chosen. We hope it does not disturb you that a simple algorithm is being used for the evaluation, so as to find the matches. And whatever happens after that is up to you! The Smell Dating event was developed by the Smell Lab Berlin and is being produced by Klara Ravat with the support of Anna D'Errico.
About Smell Lab Berlin:
SMELL LAB was co-founded in 2015 by olfactory artist Klara Ravat. As a non-commercial project, it has been established as a platform for olfactory art and inter-disciplinary practices that relate to scent as a medium for expression and communication, in Berlin and in an international context.
Our main mission is to co-produce, host, educate, innovate and support artistic practices that involve the sense of smell and olfaction.
With:
Klara Ravat, Olfactory Artist and Filmmaker, Smell Lab Berlin
Anna D'Errico, Neuroscientist and Performer, Smell Lab Berlin