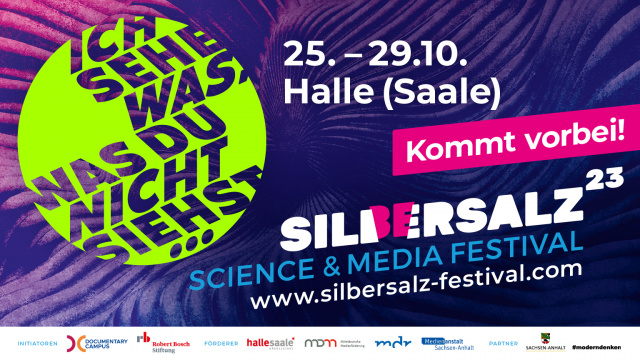 > click here to download the catalogue <
Under this year's motto "I spy with my little eye", the aim is to focus on and visualise what eludes our direct perception - because it seems so everyday, almost banal and self-evident - and to take visitors, scientists and knowledge communicators on a voyage of discovery between man and nature, earth and space, young and old, seeing and understanding, creating and participating.
A total of over 80 free formats will take place in the centre of Halle (including the Halle Planetarium, Leopoldina, Moritzburg). International film productions, including excellent German premieres, award-winning international installations and exhibits, and first-class scientific discussion formats (guests include Dr. Matthias Maurer (astronaut & scientist) All vs. the Deep Sea - cooperation with Wissenschaft im Dialog (WID)) await the audience. 
For Halle, two special artpieces will be created for the period from 25.10. - 29.10.2023. On the one hand, the former Kaufhof department stores' will become the festival centre: Kaufhaus, Marktplatz Halle. Films, performances and exhibitions etc. will be presented here, showing how such a large building can be "reinvented" under the concept of transforming places.
On the other hand, the visual art designer Filip Roca, a world-renowned artist of the so-called Project Mapping, has been won to present a work of art exclusively created for Halle on the market square with the Marktkirche as a projection surface. A world premiere and a work with charisma beyond the city limits of Halle and the state borders of Saxony-Anhalt, which underlines the importance of the festival as the largest science and media festival in Germany.