Till Brönner & Baby Sommer, meet Sarah Maria Sun - Trio Trionfo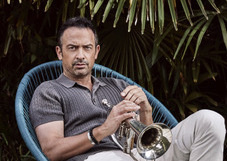 Till Brönner is Artist in Residence at this year's KlangART Vision.
KlangArt Vision is an unconventional festival in the best sense. It does not focus on music presentations, but enables real encounters on different levels: personal, musical, spatial. Young and talented musicians work in professional settings, make music in new places, in unusual contexts.
High-ranking musicians and composers open their musical field to other genres. In these encounters, something new can emerge without giving up one's own authenticity. Encounters at eye level, which I live every day in my work as a musician and photographer. That's why I'm delighted to be accompanying this festival as artist in residence. - Till Brönner
The artists
TILL BRÖNNER
Till Brönner is the most successful German jazz trumpeter. He is extremely virtuosic on his instrument and is considered the "German Chet Baker". Brönner studied jazz trumpet at the Cologne University of Music. His most important teachers include Prof. Malte Burba and the American jazz trumpeter Bobby Shew.
SARAH MARIA SUN
Sarah Maria Sun became internationally known as an interpreter of contemporary music. Today her repertoire includes over 2000 compositions from the 16th to the 21st century. Over the years, she has participated in more than three hundred and seventy world premieres. In 2017 ("Lohengrin" by Salvatore Sciarrino) and 2019 ("Psychosis 4.48" by Philip Venables) she was nominated as Singer of the Year.
GÜNTER BABY SOMMER
Günter Baby Sommer is one of the most important representatives of contemporary European jazz, who has simultaneously developed a distinctive musical language with a highly individualised set of percussion instruments. Sommer was born in Dresden in 1943 and studied at the Hochschule für Musik "Carl Maria von Weber".
In cooperation mit KlangArt Vision