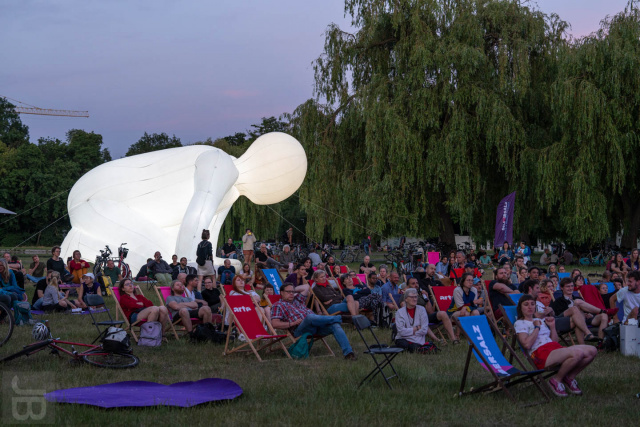 Five days that were all about science and exchange - and lots of fun. That was the SILBERSALZ Festival 2022 in Halle (Saale). The more than 90 events of the fifth edition were held under the motto "Ahead of us, the future. #unitedbyknowledge".
The SILBERSALZ Science & Media Festival celebrated its kick-off on the Ziegelwiese with a performance by the exciting brass band "Frohe Zukunft" from Halle (Saale) – always in view of the illuminated humanoid "Fantastic Planet" by Australian artist Amanda Parer. During the festival days, numerous open-air film screenings took place and people danced into the night. The beats were provided by techno DJ and biologist Dominik Eulberg and DJs from Halle (Saale).
At other locations in the city, international films were screened that revolved around scientific research and our global challenges - including premieres and exclusive screenings for school classes in Halle (Saale). Follow-up film discussions provided an opportunity to ask questions and exchange ideas with experts.
Renowned experts like astrophysicist, science journalist, and TV presenter Prof. Dr. Harald Lesch, physician and TV presenter Dr. Eckart von Hirschhausen, and Prof. Dr. Maja Göpel, economist, transformation researcher, and sustainability expert, attracted many curious visitors to the events.
Some discussion events were streamed and can be watched afterward.
At the SILBERSALZ Science & Media Forum at the National Academy of Sciences Leopoldina, media professionals and scientists came together over two days to engage in creative dialogue and establish future connections in the spirit of engaging science communication.
Media productions that succeeded in doing this in a particularly impressive way were honored at the SILBERSALZ Science & Media Awards (in cooperation with Jackson Wild). Together with Science2Public, the diverse youth program "SILBERSALZ by Youth" was created, among others in the Neustädter Passage 13 and the citizen research ship "MS Halle.Science".
The date of the next SILBERSALZ Science & Media Festival is already set. See you from 25 - 29.10.2023 in Halle (Saale)!